Latest News at Jetboarding in 2020
13 Mar 2020
by Top Jet Surfing
News in the world of jetsurfing
The first months of 2020 turned out to be very rich in events from the world of motor surfing. We have gathered for you the most important news about competitions, exhibitions, bright presentations and exciting news from leading industry brands. The year promises to be very interesting. We will keep you updated with all the latest news.
Boot Düsseldorf 2020
From January 18 to 26, the next international exhibition of boats, yachts, equipment for diving, surfing and other sports and water entertainments was held in Düsseldorf. The best products were presented by more than 1900 exhibitors from different countries, including the largest manufacturers of motor surfers: Awake, Radinn, Jetsurf, Takuma, Hovestar, Onean and many others. Not without intriguing new products. In particular, Onean presented to the public its new Carver Twin model, and Awake has delighted everyone with the new Ravik S electric jetboard. In addition to the exhibition, visitors could watch a real show in the surf pool with the participation of the best wave masters.
Other international exhibitions, boat shows
In January-February 2020, large exhibitions of yachts and boats were held in Toronto, Phuket, Zagreb, Budapest. From February 13 to February 17, the grand Miami Boat Show 2020 was held, at which the brands Lift Foils, Jetsurf, Radinn presented their products. From March 5 to 9, a large-scale Moscow Boat Sow was held in Moscow with a number of high-profile premieres from top manufacturers of boats and launches. Motor-surfing fans had the opportunity to see the entire Jetsurf lineup, including the long-awaited novelty - Jetsurf Electric Jetboard.
Cup, competition news
On February 21-22, in the hottest UAE, the country's first national motor-surfing championship was held. As you can see, the geography of this sport is rapidly expanding every year, and the popularity of motor surfing is growing steadily throughout the world.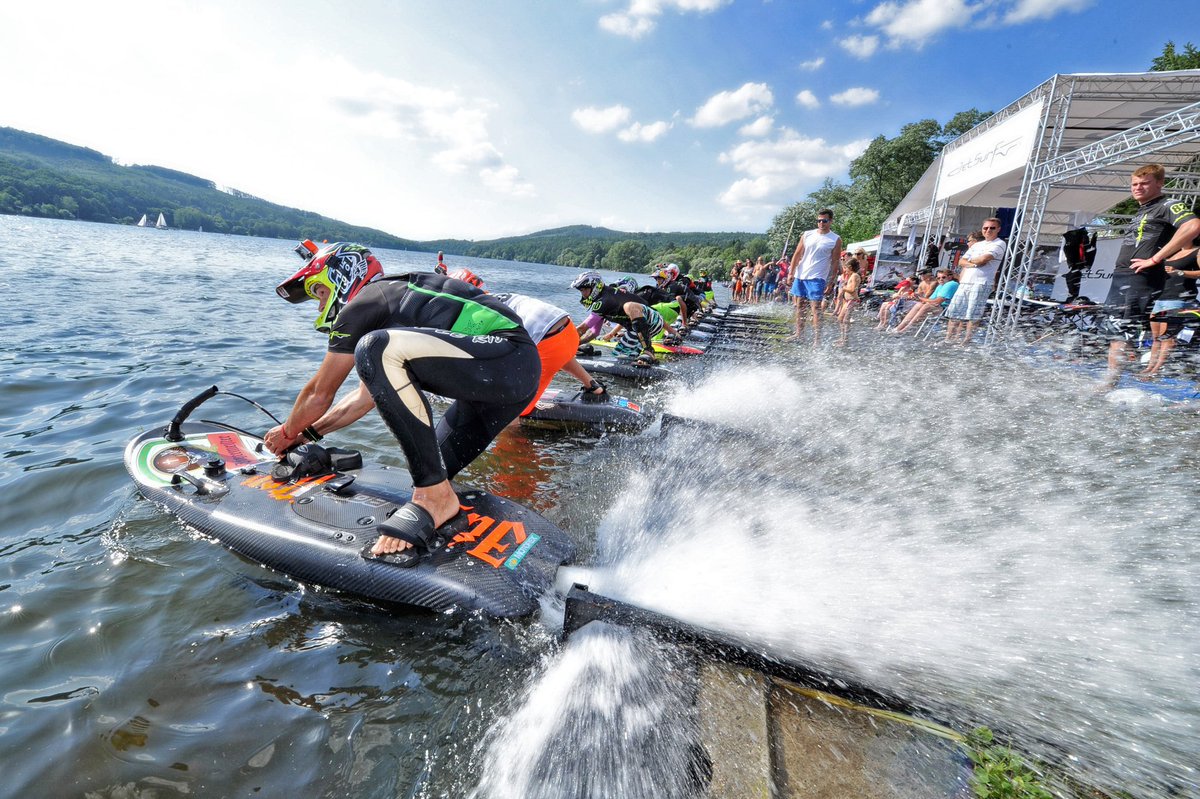 An equally hot season awaits us in the race for the Motosurf Worldcup 2020, the first stage of which will be held on March 26-28 in the same UAE, in Abu Dhabi, on June 11-13 it will move to the Czech Republic, in the city of Brno, on June 26-28 - to Britain, to Wyboston, and on August 14-16 it will be held in Russia, in the city of Kazan. The final stages will be held in the fall in China, the exact dates are still being determined.
Jetsurf Raduno in Italia 2020
On May 8-10, Italy announced the first national gathering of motor-surfing enthusiasts on Lake Lago del Salto in the Lazio region. An exciting program is provided for all participants of the event, including various contests, extreme races, friendly competitions with many unique prizes, as well as test drives of the latest jetboards from the 2020 lines. This is a great opportunity to spend a weekend in a circle of like-minded people, make new friends, fill your weekend with pleasant emotions and adrenaline.